With the closing of the Red & White, Isle of Palms residents, real estate owners and visitors will have to cross the Intracoastal Waterway and venture into Mt. Pleasant every time they need groceries. But the truth is that many folks have been purchasing their groceries in Mt. Pleasant for a while because of its vastly better selection. The locally owned Red & White has been the island's much-adored grocer since 1958, but tastes change with time. The Isle of Palms was once an enclave of affordable housing for WWII veterans, but since the Red & White began serving the island, demographics have shifted. The Wild Dunes Beach and Racquet Club opened in 1975, distinguishing the area as a resort vacation destination. After Hurricane Hugo devastated the area in 1991, property was bought up, and modest residences were replaced with luxury beach homes. The average household income in 2010 was $158,254, and the average price of Isle of Palms real estate in 2012 was more than $935,000. The island's permanent population of 4,100 grows to more than 20,000 in the spring and summer months.
And to accommodate the change in demographics, developers are bringing in a specialty grocery store. Newton Farms, a subsidiary of the locally owned Piggly Wiggly grocery chain, is slated to open its doors to the Isle of Palms in the spring of 2014. The first Newton Farms opened on Johns Island in 2005 to serve the Seabrook and Kiawah Island resort areas. Specializing in produce from local farms and top-quality gourmet items from around the globe, Newton Farms will carry items selected to suit the needs of both full-time residents and part-time visitors.
The Newton Farms on Johns Island caters to the resort islands by offering extended summer and shorter winter hours, and the IOP location will likely follow suit. Departments at the first Newton Farms include a full-service meat and poultry counter, a wild-caught seafood section, a well-stocked wine hall, a gourmet cheese section, fresh produce, general grocery items and cold foods. Other services include a floral design studio, a café, a fresh foods to-go section, an off-site catering department, a bakery, a Starbucks Coffee and even a concierge service. It's not clear if the IOP location will have all of these amenities, but it will definitely have an eat-in deli, bakery and meat and seafood counter. Here is the schematic of the Johns Island store.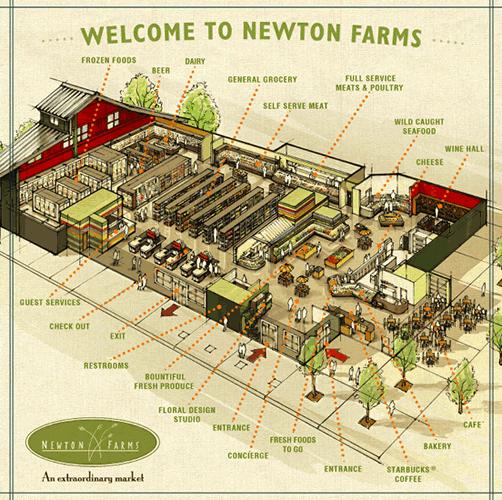 If you are interested in Isle of Palms real estate and would like more information on area amenities or anything else, you can reach longtime local Realtor Bob Brennaman at 843-345-6074.