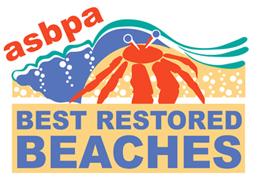 We're up for another national award, and you have a say. If you love the Isle of Palms, then go to the American Shore & Beach Preservation Association (ASBPA) website and vote for this wonderful Charleston-area beach. The IOP is currently in the running for a Best of the Best award: the 2012 Best Restored Beaches Award. In 2011, five urban beaches received the Best Restored Beaches designation, including the Isle of Palms. This year in honor of the 10-year anniversary of the contest, the ASBPA is looking for the best of the best, and the IOP is in third place out of 24 contenders. You can vote everyday until April 27, 2012, so bookmark www.asbpa.org, and get to clicking!
Beach restoration and renourishment is an important issue for Charleston area beaches. Some of our area beaches are affected severely by erosion. So much sand can be washed away that the beach disappears at high tide — the ocean comes right up to the dunes and boardwalks. Beach restoration involves adding sand to the beaches to help with the issue of erosion. The process is expensive, and often, the fix is temporary because erosion is ongoing. But when restoration projects are successful, we get our beaches back and can enjoy them for years to come.
According to the American Shore & Beach Preservation Association, beaches provide recreation and improve the quality of life for Americans, so replenishing popular beaches with erosion problems is more than just an engineering issue. If many people visit a beach and enjoy their time there, then the beach is worth preserving. The Isle of Palms works very hard to maintain its beaches and mitigate its erosion problem to ensure visitors and residents will have plenty of sandy space to enjoy. A major replenishment project occurred on the IOP in 2008, and this year — just in time for vacation season — the City of the Isle of Palms has just wrapped up a small replenishment project near Ocean Club Villas, Seascape Villas and Port O' Call Condominiums in Wild Dunes.

May 3, 2012, UPDATE: The results are in. How'd we do?
Voting closed for best urban beach last week, and while the Isle of Palms lost out to West Hampton Dunes, New York, for the title of Top Urban Beach, we did claim the No. 1 Urban Beach slot in the Southeast regional category. A ceremony to honor the winners will be held in Washington, DC, on February 26–28, 2013, at the ASBPA National Coastal Summit. You can read more about the contest and other winners by following this link.